2000 Brook Trails Easter Egg Hunt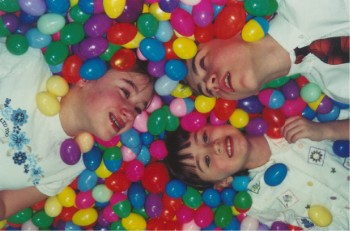 This year marks the 7th consecutive year we have had the Brook Trails Easter Egg Hunt in our little cul-de-sac. Each year we expect anywhere from 30 to 50 kids to join in the fun. We hide eggs and toys in the front and back yards of all the neighbors houses. The kids then hunt them down. We always end up finding a few, however, months later as we are doing yardwork.
Bryant, Jamie, and Kacie have fun with the eggs after they have spent hours filling them with candy.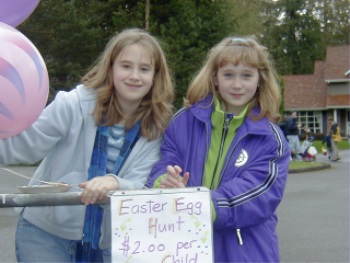 This year Jamie and her good friend Larissa are the gatekeepers. They are responsible for collecting $2.00 admission for each child. I believe they collected around $80 total this year. We hope that's enough to cover the candy and toys.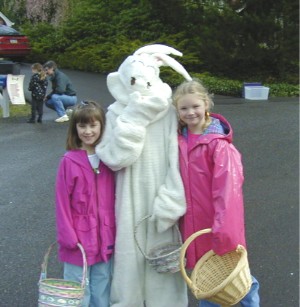 Kacie and her friend Kathryn hang out with the Easter Bunny before the big hunt begins. This year's bunny is our 9 year old neighbor Stuart Dransfield. Kacie and Katie are getting excited for the festivities.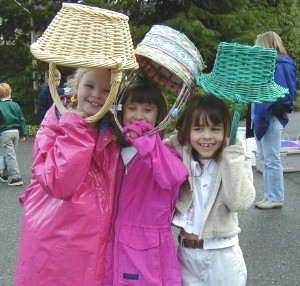 Kacie with Kathryn Engelbrecht and Hanna Stevenson. They are a bit giddy as they can't wait for the candy. They pretend to use their Easter baskets as umbrellas. Its not even raining.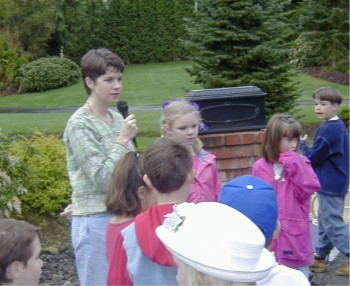 Keri is the Master of Ceremenonies for the third straight year. She gets the kids together. Explains the rules and then lets them loose.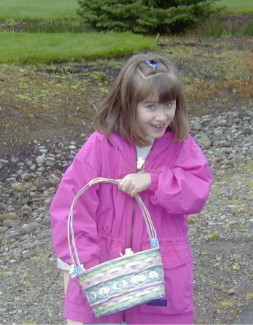 Kacie comes back with a nice facial expression. That must mean she has a basket full of candy. She was hunting in our own backyard as that was where the 6-8 year old territory.