Halli Brooke Johnson
Halli was born Dec 4, 2001 @ 9:33 AM! Congratulations to Kelly and welcome to Halli. Her full name is Halli Brooke Johnson! She now officially shares her birthday with Bryant. She weighed in at 7 lbs. 12 oz.; measures 20.5 inches long; and has lots of dark hair.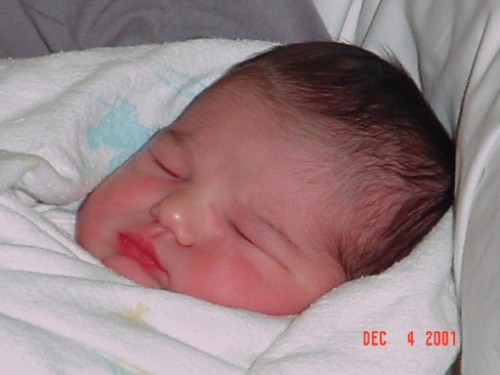 Delivery details from Bruce: Halli was stubborn coming out. One week ago (Tuesday), Kelly was checked by Dr. Brown (deliverer of Trevor, Brady and Blake) and Halli was head down. The next day Kelly had about 20 hours of labor, but no baby. So, we came back home and Kelly had sporadic labor contractions each day and night until this last Monday when we went back to see Dr. Brown. Dr. Brown checked her and said "Bad news – her head is no longer down. She has flipped herself breech." So, he called the hospital and scheduled us for early the next morning to come in for two possible outcomes: 1) they would attempt to "flip" Halli to be head down by external manipulation. If this succeeded, they would induce and she would be born normally. Or 2) if the "flip" didn't work, a Caesarean-Section delivery would be required.
Early the next morning, Kelly was in the shower prior to us heading to the hospital when her water broke. The chance for "flipping" Halli was now all but gone. After we got to the hospital, Dr. Brown attempted the "flip", but to no avail. So, it was Caesarean Section time. Lindsi and I were allowed to come into the operating room. I brought Keri's (Bullock) video camera in there and between that and the still digital camera, hopefully we got some good, tasteful, discreet documentary footage of this girl's birth.